Mile High Mashing: Previewing the 2021 Home Run Derby
Politics aside, the biggest upside to Major League Baseball's decision to move this year's All-Star Game from Atlanta to Denver is that for the first time in 23 years, the Home Run Derby will be held at Coors Field, where baseballs fly further than any other major league venue due to the mile-high altitude. If you have any sustained interest in the event, this is the bucket list location for a Derby, and if that's not enough to juice this competition, MLB has made clear the balls themselves won't be stored in the humidor prior to the festivities, theoretically resulting in drives of even greater distance. Short story longer: MORE DINGERS!
If there's a downside to the pending fireworks show, it's that the new baseball MLB introduced this year isn't carrying quite as far as years past. The average distance of a hard-hit fly ball — that is, one hit with an exit velocity of 95 mph or greater — is 366 feet, which is up five feet from the shortened 2020 season but down nine feet relative to '19, the year those distances peaked.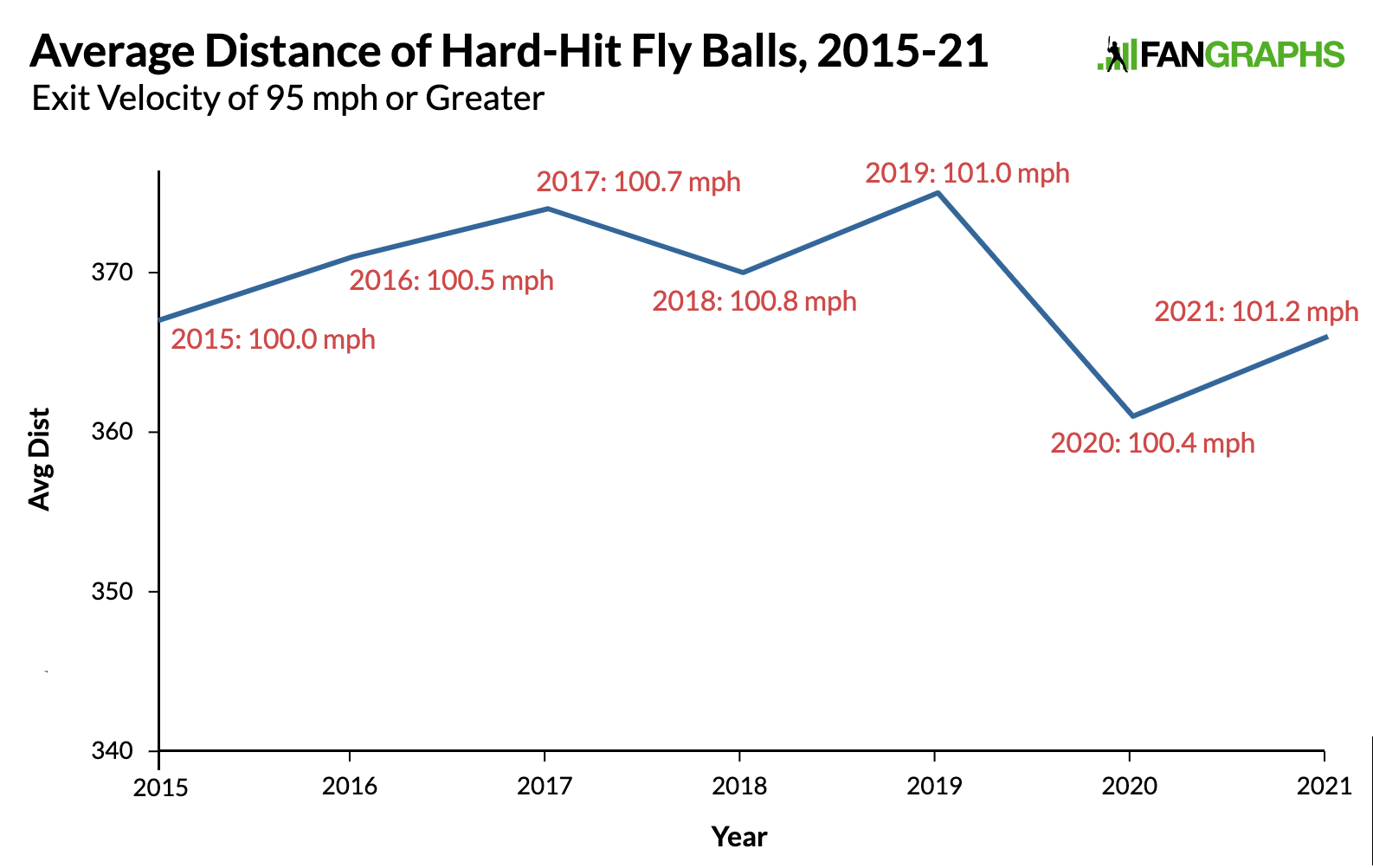 That decreased distance is despite this year's hard-hit fly balls having the highest average exit velocity of the Statcast era at 101.2 mph; they averaged 101 mph in 2019, the year that home runs peaked with an average of 1.39 per team per game. That was deemed Too Many Homers, and after dropping by 8% from 2019 to '20, per-game home run rates have fallen another 7.85% this year, to 1.18 per team per game. The good news is that at Coors Field, that downturn won't matter; via Statcast, this year's hard-hit fly balls are averaging 393 feet — 7.3% further — and that's with the humidor.
It's worth noting that Coors Field's outfield distances are asymmetrical, measuring 347 feet down the left field line and 390 to left center, compared to 350 down the right field line and 375 to right center — albeit with a 16-foot-6 fence in right-center and right, compared to just eight feet in left, save for the left field corner, where it's 13 feet. According to our park factors, when it comes to homers righties have a two-point advantage over lefties (111-109). Via Statcast, on those hard-hit fly balls at Coors, righties' shots have averaged 395 feet, compared to 391 feet for lefties.
Just as there was no All-Star Game last year due to the COVID-19 pandemic, there was no Home Run Derby, but this one will pick up the same format used from 2015-19 — a format that has done wonders for the watchability of this spectacle. The competition will be an eight-man, single elimination bracket that uses timed rounds, though this year, those rounds have been trimmed from four minutes to three for the quarterfinals and semifinals, and to two minutes for the finals. Basically, it's a nod to how taxing this will be to do at altitude, and it will also make for a tighter show.
Beyond that basic block of time, there are a couple of wrinkles. Each player gets one 45-second timeout per round for use in that regulation period, and for some reason related to the event's sponsorship, everybody also gets 30 seconds of bonus time per round, with those who hit a drive of at least 475 feet during their round receiving another 30 seconds. During that bonus time, the players will be swinging at special magenta balls that promote the event's sponsor. If two contestants are tied after their regulation and bonus time, each gets another 60 seconds, and then if the contestants remain tied after that, they each get rounds of three swings apiece until a winner is decided.
As with every year, the list of participants includes only some of the game's top sluggers. Mike Trout is injured and so won't participate, and likewise, neither Kyle Schwarber nor Ronald Acuña Jr. were scheduled to do so before their respective injuries. Also absent are Vladimir Guerrero Jr., the Derby's runner-up in 2019, as well as former winners Giancarlo Stanton (2016), Aaron Judge (2017), and Bryce Harper (2018), not to mention Fernando Tatis Jr., who leads the NL with 28 homers. That still leaves a field that should be very entertaining, headlined by major league home run leader and two-way wonder Shohei Ohtani as well as defending champion Pete Alonso, the only participant with previous Derby experience:
2021 Home Run Derby Field
| Seed | Player | PA | HR | HR/PA | HR/CON | HR/FB | EVF | Avg HR | Brl% | 440 |
| --- | --- | --- | --- | --- | --- | --- | --- | --- | --- | --- |
| 1 | Shohei Ohtani* | 338 | 33 | 9.8% | 16.4% | 38.8% | 100.2 | 417 | 25.9% | 7 |
| 2 | Joey Gallo* | 351 | 24 | 6.8% | 14.3% | 31.2% | 99.1 | 414 | 19.6% | 5 |
| 3 | Matt Olson* | 360 | 21 | 5.8% | 8.3% | 18.6% | 96.2 | 406 | 13.8% | 1 |
| 4 | Salvador Perez | 363 | 21 | 5.8% | 8.3% | 23.1% | 97.9 | 400 | 14.3% | 4 |
| 5 | Pete Alonso | 304 | 17 | 5.6% | 8.3% | 17.9% | 95.4 | 411 | 16.0% | 2 |
| 6 | Trey Mancini | 361 | 15 | 4.2% | 6.3% | 18.5% | 91.6 | 407 | 12.5% | 2 |
| 7 | Trevor Story | 318 | 11 | 3.5% | 5.1% | 11.8% | 92.1 | 419 | 9.3% | 3 |
| 8 | Juan Soto* | 328 | 11 | 3.4% | 5.0% | 19.6% | 96.2 | 402 | 10.9% | 0 |
All statistics through July 10. EVF (exit velocity on fly balls), Avg HR (average home-run distance), Brl% (barrels per batted ball event) and 440 (total of home runs projected for at least 440 feet) via Baseball Savant. * = Bats left-handed.
Ohtani's top seeding is based upon his major league home run ranking as of July 7; by that measure, one had to go all the way down to the nine-way tie at 71st to include all eight participants. Home run totals are hardly the only measure of a slugger's capability, of course, particularly in this context, and while it's fair to question the applicability of any of the above metrics I've gathered when it comes to non-game situations, it's worth appreciating the perspective they provide on this group. I've gone beyond the raw totals to show how often each contestant homers per plate appearance, per batted ball [HR/ (AB – SO + SF)], and per fly ball, with their average exit velocities on flies, their average projected home run distance, and their barrel rate, which according to a 2019 study by Devan Fink correlates best with recent Derby success.
I've also included each player's total number of homers projected to travel least 440 feet, which was the threshold that recent Derbies used for the distance bonus to kick in. This year, that threshold is 475 feet, but that's only about 8% further than 440 feet, which is more or less on par with the average distance gain in hard-hit fly balls between Coors Field and the majors as a whole.
The event will air at 8 pm Eastern on ESPN on Monday night. Here's the bracket from MLB.com: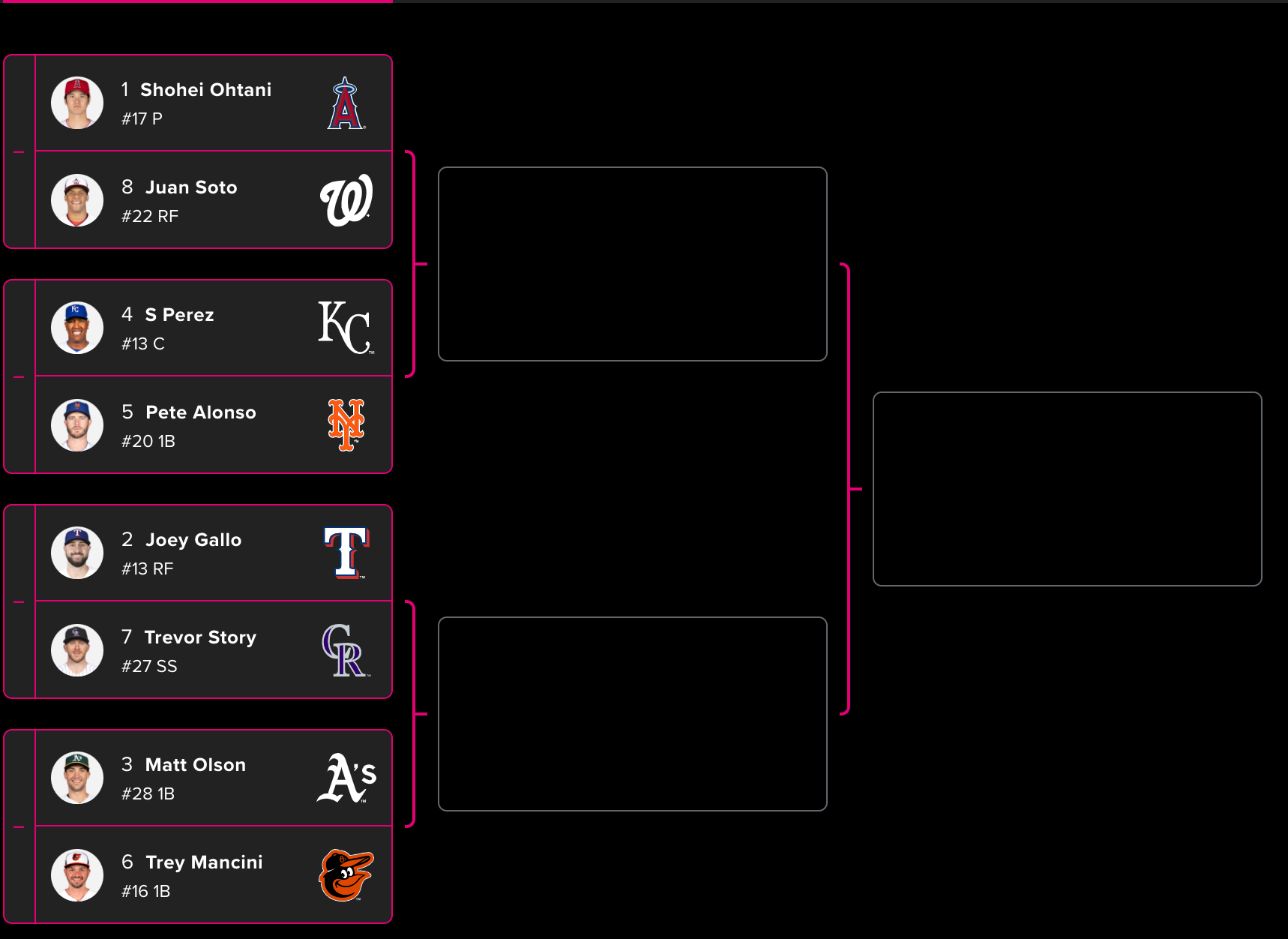 Ohtani (1) vs. Soto (8)
On paper, this appears to be a mismatch between two first-time contestants. Ohtani — who will become the first Japanese player to participate in a Home Run Derby — was already living up to the hype regarding his two-way prowess before embarking upon his latest tear at the plate, during which he's homered 16 times in 23 games, with four of his 10 homerless games coinciding with ones that he was also the Angels' starting pitcher. Based on data through Saturday, the 27-year-old phenom leads the majors in home runs per plate appearance by 0.7 percentage points, and in barrel rate by 4.5 points, plus he leads this field in every category I've gathered save for average distance, where he takes a back seat only to the Coors-aided Story. If you want a testament to how far ahead of the field he is, Statcast projects that 26 of Ohtani's 33 home runs would have gone out given the fence distances and heights at Coors Field; Gallo is second with 19, Perez third at 17.
One quirk that may be of interest: he hasn't taken batting practice on the field since Opening Day, preferring instead to work in the indoor batting cages so that he can use a pitching machine that throws at higher velocity and that can offer him breaking balls.
Soto has had a subpar first half by his own standards, slugging just .444, 113 points below his mark for his first three major league seasons; a left shoulder strain may have contributed to those shortcomings, though the slugger said that the injury affected his throwing more than his hitting. Soto's hitting the ball on the ground with greater frequency than ever (54.8%), has just a 5.0 degree average launch angle, and hasn't hit a hit single homer of 440 feet this year, maxing out at 437 feet and producing the lowest average distance of the field. That said, he's been showing more power lately, hitting seven of his 11 homers — including three of his five longest — and slugging .504 since June 1. His overall exit velocity on fly balls is in a virtual tie for fourth among this group.
Perez (4) vs. Alonso (5)
This is the only all-righty first-round matchup. Perez has been pulverizing the ball when he connects, ranking third in homers per fly, homers per batted ball (in a virtual tie), and average exit velocity on flies. His barrel rate and 56.7% hard-hit rate are both career bests, as is this year's 114.2 mph maximum exit velocity. While he's got the lowest average home run distance of the field, he also plays in the toughest ballpark for righties to homer in from among the players in this group, given Kauffman Stadium's 93 park factor. He's just the second catcher to compete in the Derby in the past 12 years, besides Gary Sánchez (2017). No backstop has ever won, though Ivan Rodriguez did finish second in 2005.
As for Alonso, he put on quite a show two years ago in the midst of his record-setting 53-homer rookie season, during which he displayed mastery of this format; though his wins over Carlos Santana, Acuña, and Guerrero were all just by one home run, he didn't have to utilize the bonus time he'd earned in any of those rounds. To some degree, he's gotten his stroke back after a down 2020, with his barrel rate, average exit velocity, and hard-hit rate all rebounding. That said, his average exit velo on fly balls is down 1.6 mph relative to 2019, and his average home run distance is three feet shorter, though it's still good for fourth place in this group, while his 117.1 mph max exit velo is second only to Ohtani's 119.0. If he wins, he would become the fourth player to win multiple Derbies, after Ken Griffey Jr. (1994, '98-99), Prince Fielder (2009, '12) and Yoenis Céspedes (2013-14).
Gallo (2) vs. Story (7)
Gallo might be the most anticipated first-time participant this side of Ohtani, because the man deals in distance. His 28 homers of at least 440 feet since 2017, his first full season, are tied with Stanton for the major league high; nobody else has more than 22. Likewise, his average home run distance of 415 feet is tied with Story for second among players with at least 50 homers in that span, one foot behind another Rockies hitter, Ryan McMahon. He's second to Ohtani in just about every metric above, and by a substantial margin.
The one stat above in which Gallo isn't second to Ohtani is average homer distance; he's third behind Ohtani and Story, whose Coors-aided 419 feet leads this pack and is tied (with Teoscar Hernández) for second in the majors behind Tyler O'Neill's 420 feet. As you can see, the fact that he's either last or second-to-last in most of the other metrics underscores the impact Coors can have when it comes to hitting the ball in the air, but it also tells on Story. If he's hitting 92-mph fly balls while others are at 96 or higher, he's in trouble. If there's good news, it's that he's been hitting the ball much harder since returning from his bout of right elbow inflammation in late May and early June (93.6 mph average exit velo) than prior (89.1 mph). Will that be enough to help him become the fourth player to win a Derby in his home ballpark, after Ryne Sandberg (1990), Todd Frazier (2015), and Harper (2018)? Probably not.
Olson (3) vs. Mancini (6)
Given that he's spending half his games hitting in the toughest home run park for lefties of any player here — the Coliseum's park factor is 90 — it's a testament to Olson's power that he's not just here but that he's seeded highly. He's in virtual ties for third or fourth in the "homers per" metrics as well as exit velo on flies. From among this group, he's also second in xSLG (.554) behind Ohtani.
A year ago, Mancini was undergoing treatment for stage 3 colon cancer after being diagnosed during spring training. That he's returned to the majors to play at a high level is remarkable, even if he's not yet back to his 2019 form. Though he's got the lowest exit velocity on fly balls here, he's fifth or sixth in the three "homers per" metrics. By the numbers, there's nothing here to make one believe he'd win, but he's impossible not to root for given what he's been through.
…
If you've read this far, you probably want some predictions, and while I'm not going to claim to be an expert in prognostication, my track record since joining the FanGraphs staff is pretty solid, as I did pick Harper to win in 2018, and Alonso to do so in '19 (over Guerrero in the finals, even), not that I was going too far out on a limb either time. At the risk of compromising my sterling record while wearing the green-and-black, I'm picking Gallo to beat Ohtani in the finals, and hoping that the event soars to the heights that all of us anticipated when it comes to a Coors Field Home Run Derby.