The Rays Finally Have a Full Rotation, At Least For Now
The average innings per start across MLB has been in decline for a few years now. The last time starting pitchers threw more innings than they did the previous season was in 2014, at 5.97 per start. Just five years later, that number had dropped all the way to 5.18, a loss of nearly 400 starter innings league-wide. At the forefront of this were the Rays, who began using openers in 2018 and finished the year with their starters throwing nearly 200 fewer innings than those of any other team.
Two seasons later, a pandemic-shortened season introduced a number of factors — injuries, larger rosters, seven-inning doubleheaders, and more — that helped the rest of the majors take a step toward Tampa Bay's minimization of the starter's responsibilities.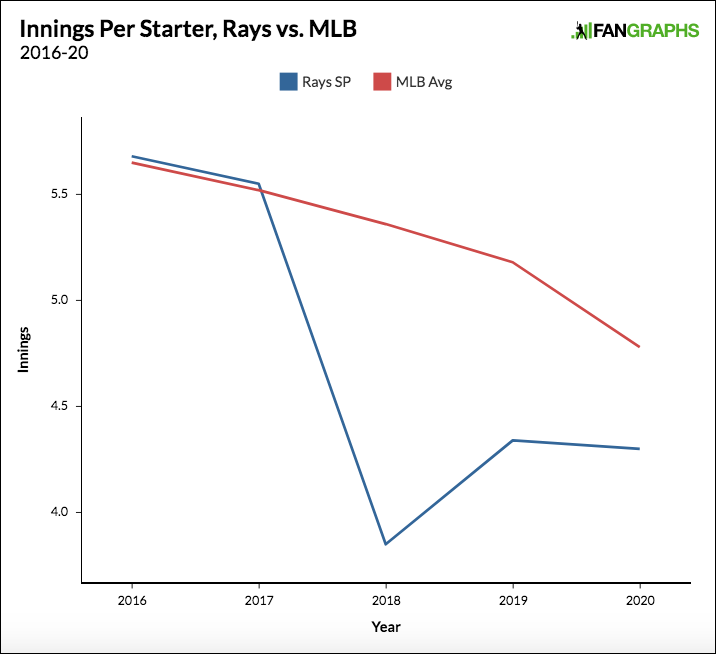 With the 2021 season two months away, it seems apparent that those two lines are about to diverge. With roster sizes being trimmed back to 26 and a somewhat more typical offseason hopefully leading to fewer injuries, I would guess that the average starter workload will go up for the first time in seven years. The Rays, however, appear to be heading for a season of pitching management even more extreme than what they had in 2018, after signing two pitchers over the holiday weekend: 40-year-old lefty Rich Hill and 33-year-old right-hander Collin McHugh, each at one year apiece, with the former set to make $ 2.5 million and the latter $ 1.8 million.
Those moves are precisely the kind of risky-but-cheap pitching upgrades that have comprised virtually all of the team's additions this winter. Combined with Chris Archer and Michael Wacha, who each signed one-year deals as well, Tampa Bay has now added four veteran free-agent arms at a combined cost of less than $ 14 million. By Rays standards, this qualifies as a spending spree; it's also pretty much the bare minimum for a defending pennant winner that traded away its ace and allowed another good starter to walk in free agency.
With Blake Snell and Charlie Morton both gone, Tampa Bay's rotation appeared to have some enormous question marks. Tyler Glasnow and Ryan Yarbrough were comfortably in, but beyond that, it was anyone's guess who the team might use to eat innings. Now, the picture seems more clear. Archer, Wacha and Hill can fill out the back half of the rotation in some order, with McHugh serving as a multi-inning reliever and potentially acting as insurance should one of those pitchers get hurt. It's a straightforward enough plan; in fact, that's a downright normal rotation. But how long it remains intact, and the Rays' plans for when it no longer is, will likely prompt some unconventional solutions.
First, though, let's talk about the newest signees. Hill is already accustomed to some Rays-ish aggressiveness when it comes to pitcher usage. Over his three seasons with the Dodgers, he averaged only 5.3 innings per start despite owning a 3.30 ERA in that time. With the Twins in 2020, he was down to 4.8 innings per start but still pitched effectively, posting a 3.03 ERA and 3.99 FIP. But while his age didn't show through in his results, it did rear its head in other areas. His average fastball velocity was down 2.5 mph from 2019, his curveball's vertical movement fell off considerably, and his typically elite spin rates dipped. The result was a whiff rate that was cut nearly in half and a strikeout percentage that dropped by a third.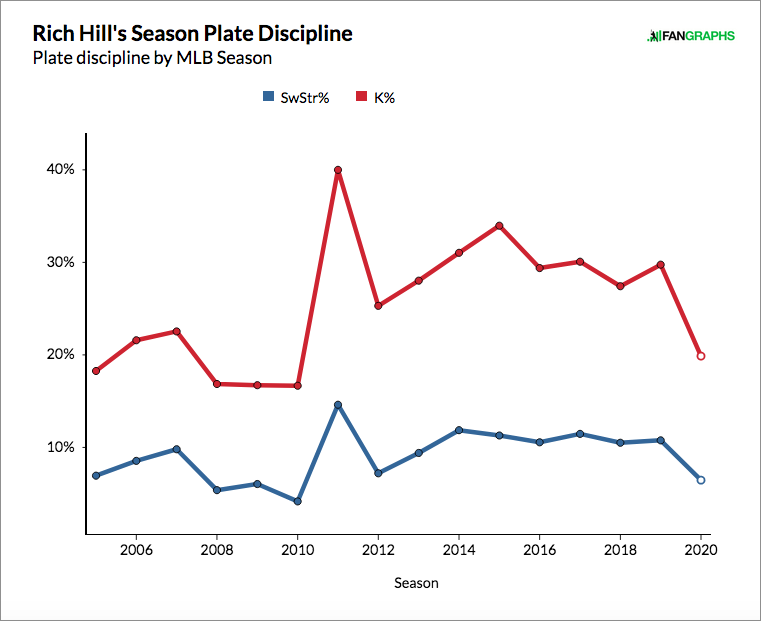 McHugh, meanwhile, did not pitch in 2020, having opted out of the season after previously signing with Boston. Like Hill, McHugh's performance record is solid, but the questions surrounding his effectiveness going forward are substantial. In 160 games (102 starts) from 2014 to '18 with Houston, he earned 11.7 WAR with a 3.51 ERA and 3.50 FIP in 678.2 innings. Then, in 2019, he posted his worst season since his rookie year, allowing a 4.70 ERA and 4.43 FIP in 74.2 innings. He was also on and off the injured list that season, and after it was over, he underwent a non-surgical procedure to remove scar tissue. The recovery wasn't as seamless as he'd hoped, which was one reason he chose to opt out of 2020.
Because of the factors outlined for each of them, the odds that either Hill or McHugh will be significant contributors for the Rays in 2021 are low; that's why the team was able to acquire them cheaply. But it isn't completely far-fetched. Hill could lose a good deal more of his spin rates and still be above-average in that department, and his fastball was already on the low end of the spectrum. If you're willing to give his declining stuff the benefit of the doubt because of the pandemic year, a lefty with an ERA- of 80 or lower in four of the past five seasons is a pretty solid bet for his price. As for McHugh, he's shown he can be effective regardless of whether he starts or relieves games, and his breaking pitches are good enough to carry him even if he loses a touch of velocity.
If you're a Rays fan who checks this site only for your team's transaction news, this all probably sounds familiar. Wacha, the team's first signee of the offseason, has dealt with injuries and is coming off a 6.62 ERA in 2020 but also posted a career-best K-BB% difference and underperformed his xwOBA by one of the largest margins in baseball thanks to god-awful batted ball luck. Archer, the returning hometown favorite, offers similar reasons to believe in a bounce-back from his last couple unsuccessful seasons, but only if he can make a healthy return from thoracic outlet surgery.
With each of these four pitchers, the quality of innings isn't really the concern; it's the quantity. And that seems to be the point. The Rays are smart enough to know that quartet isn't going to last the duration of 2021 unscathed. The goal instead is to maximize the impact each one has while on the mound, with the hope that when all is said and done, their combined production will add up to one or two decent starters.
That's where Tampa's unconventional pitching usage could come in handy. Hill is the pitcher we're most accustomed to seeing go just two times through the order, but similar limits could be placed on Wacha, Archer and, if he starts, McHugh. The team could choose to piggyback two of them for three innings apiece, or use other strategies to limit how much time they spend on the mound at any given time. How much of an impact that could have is up for debate: Last season was a good reminder that not even the Rays are immune to a barrage of serious arm injuries. But one would hope that throwing 15 innings instead of 30 over your first five starts could only help a pitcher's longterm odds of surviving the season.
And the bullpen throwing behind those starters will provide all the options the team could want. The list of young guys who could handle some kind of multi-inning role in Tampa Bay, whether it's starting, following, or middle-inning relief, is overwhelming: Luis Patiño, Brent Honeywell Jr., Shane McClanahan, Josh Fleming and Brendan McKay are just the tip of the iceberg. A few weeks ago, the Rays were in a position where at least two of those pitchers would be thrust into the rotation the very first week of the season. Now they can take their time with that group, allowing them to work at Triple-A or in lower-leverage relief roles until the team feels they're ready to take over a starting job.
As Eno Sarris noted over at The Athletic, the Rays used 12 starting pitchers over just 60 games in 2020, and losing two of the most reliable of those arms threatened to exacerbate any rotation chaos going forward. If any team could find comfort in that, it would be Tampa Bay, but the decision to spend a negligible amount of money to try to stabilize the staff was still probably the right move. The team could have spent a similar amount to bring in a big name like Corey Kluber or James Paxton, or to keep Morton, but each of those pitchers carry risks of their own. Instead, Tampa Bay decided to spread the money and risk around to four different arms, with the hopes that their combined value might add up to something worth more than a single $ 14-million pitcher. It's the most Rays way to spend money that I can think of.